JUNE 20, 2022
Today at Cannes Lions International Festival Of Creativity, TRIBE was announced as an official TikTok Marketing Partner, paving the way for global marketers to access TikTok's first-party data via TRIBE's end-to-end creator platform, enabling creators to respond to briefs in minutes, not days.



TRIBE Founder Jules Lund with David Ma, fellow panelist & US TikTok Creator with 1.3M followers.




As TikTok's popularity continues to surge, so too does demand from modern marketers hoping to collaborate with the next generation of creators. In just 6 months, Maybelline, Colgate, NBCUniversal, Suzuki, Disney+, Logitech and more have run 50+ TikTok campaigns via TRIBE. With this newly-formed partnership, brands can now execute world-class creator campaigns with even greater speed, scale and performance.

"Marketers need to move at the speed of trends." said TRIBE Founder, Jules Lund.
"Naturally they need a solution that automates creator outreach, management, legals, payments and reporting. Whilst our platform is known for that, this integration provides greater access to game-changing insights and tools, helping our clients generate performance from their TikTok marketing campaigns like never before."
@elburritomonster for Carex


TikTok Head of Ecosystem Partnerships, Melissa Yang adds"TikTok's Marketing Partnership program allows us to collaborate with the most innovative and trusted leaders in the advertising industry. We're thrilled to formalise our partnership with TRIBE, showcase their superpowers and introduce more advertisers to TikTok's unique Community-Generated Entertainment."
@elvira.styles for Iceland
With this partnership, TRIBE's suite of apps will integrate with TikTok's Creator Marketplace - the official platform for brand and creator collaborations on TikTok. When complete, this API will assist marketers at each stage of their campaign journey;
Upon building a brief and selecting their target audience, TRIBE's AI-powered BrandMatch algorithm can better identify creators with audiences that deliver that demographic.

Brands can then make data-driven decisions having access to pre-purchase analytics on a creator's predicted engagement, audience breakdown and more.

Once published, the highest performing creator posts can be identified via real-time analytics and then boosted as Spark Ads by connecting their TikTok Ads Manager to TRIBE.

Upon completion, marketers can measure their ROI via first-party post-campaign reporting all within their TRIBE dashboard.
Jessica Bernard from The Kraft Heinz Company has achieved repeated success executing TikTok strategies via TRIBE "We were looking for a partner who could bend and twist as we uncovered cultural moments we wanted to jump on. TRIBE is both flexible and fast-paced, allowing brands like us to move with agility."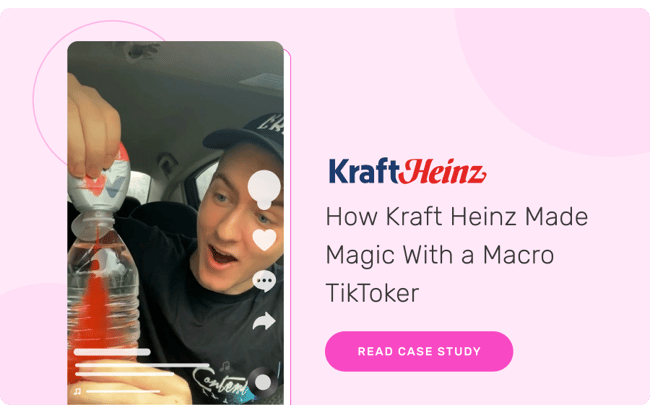 Lund adds "TikTok is not just shaping culture, it's changing the face of advertising and commerce. Businesses of all sizes have never before been able to empower creators to drive brand awareness, engagement and sales in the way they can now. It's that innovation that excites us most."

Some of the world's biggest brands are running TikTok campaigns on TRIBE. Click here to watch their content, or check out the latest case studies.
Ready to start collaborating with TikTokkers? Chat to a TRIBE expert today and discover how our platform can connect you with over 60,000 talented creators.