Earlier this year, we announced that TRIBE would be launching in the US and set up our first office in New York City. Since then, we've partnered with some huge U.S-based brands, including Procter & Gamble, Unilever and Genexa.

"TRIBE makes connecting with high quality influencers and content creators easy and seamless," said Emily Hazlett, Director of Brand Marketing at Genexa. "Our campaigns on TRIBE have allowed us to create more meaningful connections between our brand and target audience. The process is super easy and has allowed us to scale quickly!"


In 3 months, TRIBE has generated over 10,000 pieces of content, worth over $2.5M.
stagram update means that when you scroll through your feed, the 'like count' of posts will no longer be visible to users. Instead, the total number of likes will be hidden and only the content creator themselves can access who has double tapped their post - by tapping into it themselves to unlock their view count.

Ripe with opportunity, influencer marketing ad spend is estimated to reach between $5-10 billion by 2022. Since the U.S. launch, we've worked with 90 new U.S-based customers and nearly 4,000 influencers – with 30 to 40 influencers signing up with the platform daily. Additionally, over 10,000 pieces of custom content have been created for brands to utilize in their influencer marketing campaigns, and 150 U.S-based campaigns have been implemented.

There are many factors contributing to the growing need for quality, branded content, but one sticks out in particular, according to TRIBE investor, Keith Weed. "Something that's changed dramatically in marketing, is there is so much more need for content than ever before," said the recently named World's Most Influential CMO. " Due to mobile phones, people are spending three more hours a day on social media! It's incredible. As a marketer, how do you keep up with that? TRIBE."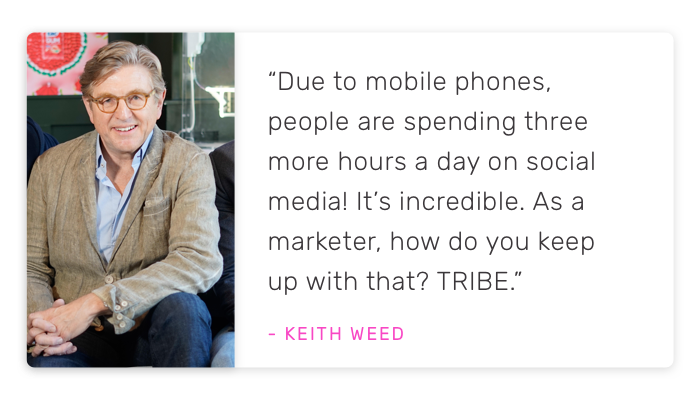 From our CEO Anthony Svirskis, who's on the ground in NYC: "It's clear that our customers in the U.S. are seeing the cost and speed benefits when using our platform over the alternatives. Influencer marketing is a highly competitive and developed category in the U.S., and we are continually hearing that our product is a much-needed and refreshing approach. The most pleasing development though has been the adoption of our branded content product, which is an ideal fit for the ever-growing content requirements of marketers here."
TRIBE was founded in Australia in 2015, by TV and radio host, Jules Lund, and expanded to the U.K. in 2017. In March, TRIBE announced a $7.5 million Series A round. In May, former Unilever CMO, Keith Weed, joined on as an investor noting that the company ensures brands are able to efficiently source content at scale without increasing costs. TRIBE has created partnerships with 44 of the top 100 global brands, including Unilever, MillerCoors and Marvel, among others.


Interested in learning more about how TRIBE works?
Sign up here for a quick platform demo!