Gone are the days of endless Instagram stories telling us to "swipe up" — link stickers are here!
Yep, Instagram has totally changed the link-sharing experience in stories. Now it's easier and more customisable than ever before.
So what does this mean for users, brands, and influencers? Let's break it all down and see how IG's new link sharing can work in your favour.
How does Instagram's link stickers work?
Adding a link to your stories couldn't be easier. First, start by capturing or uploading content to your story, then navigate to the 'sticker' tray — the smiley face square. Next, tap "LINK", paste your link and add the sticker to your story. You can place it anywhere, make it as big or as small as you like, but only one link sticker is allowed per story slide.
In Insights, you'll be able to view how your link stickers perform under 'Link Clicks.'
Pro tip: if you can't find the link sticker option, make sure you've updated to the most recent version of the IG app.
Check out the below image for a step-by-step guide to using Link Stickers.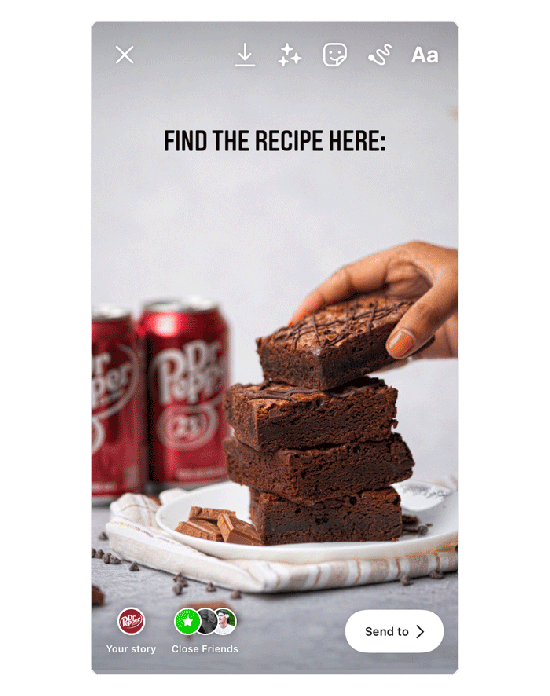 What's so good about link stickers?
Sure, swipe up links was a pretty good feature. But some great benefits come with the new format.


More creative control
Users can decide exactly how to place the link sticker on their story.


Engagement with stories
People will still be able to reply and quickly react to your story even when you use a link sticker, which wasn't possible with swipe ups.


Streamlined use
Have you noticed that Instagram is trying to make stickers a *thing*? Everything from location, mention, questions, polls, and now links– in one place makes the app a lot more user-friendly.
Can people with less than 10k followers use link stickers?
Yes! Or at least, you will be able to soon. Unlike the swipe-up function, which was only accessible by bigger accounts, Instagram announced they would be testing link stickers with a range of users.
The company's VP of Product, Vishal Shah, said they're looking at how audiences will "take advantage of links" while keeping a close eye on misinformation and spam.
For now, they're testing the feature with accounts that have "a voice and reach on the platform".
Can I put link stickers on branded content?
Instagram will allow you to mark your story as branded content and add a link sticker to it. However, you will not be able to promote any link-stickered story as an ad. So just be sure that you don't add links to any content you might want to promote as an ad in the future.
Do I need to do anything to switch over to link sharing stickers on Instagram?
If you already had access to the swipe up link function, your account should automatically switch over to give you link sticker access.
Another tip: go back and check your old story highlights. Do any of those have swipe up links? Do a quick run-through and make sure the links are all still intact. You may need to replace some with the new link stickers.
Want to put instagram stickers to the test, but need some help getting started?
TRIBE helps brands unlock instant branded content from skilled and influential creators who already use and love them. Find out why some of the world's biggest brands use TRIBE.