Originally labelled Instagram's response to the meteoric rise of TikTok, Reels have evolved into a powerful format for brands and creators alike. It's no secret that short-form video is dominating social media and with an algorithm designed for reach and relevancy, any brand not creating Reels is already behind. Keep reading to find out why.

4 reasons you should have a Reels marketing strategy
1. YOU CAN REACH A BROADER, AND LARGER, AUDIENCE
While many of us are active on both Instagram and TikTok, Instagram's audience tends to skew slightly older – as of January 2023, over 60% of Instagram's users were between 18 and 34.
Having a brand presence on Instagram ensures you're casting a wide net and engaging with as many people as possible, and we can't look past the higher buying power older social media users have.
Meanwhile, TikTok's user base skews younger with about half of their users under the age of 29.
Sure, TikTok is hugely popular, but Instagram still has more active users. 2 billion people use Instagram at least once a month, while TikTok's number hovers at just over a billion.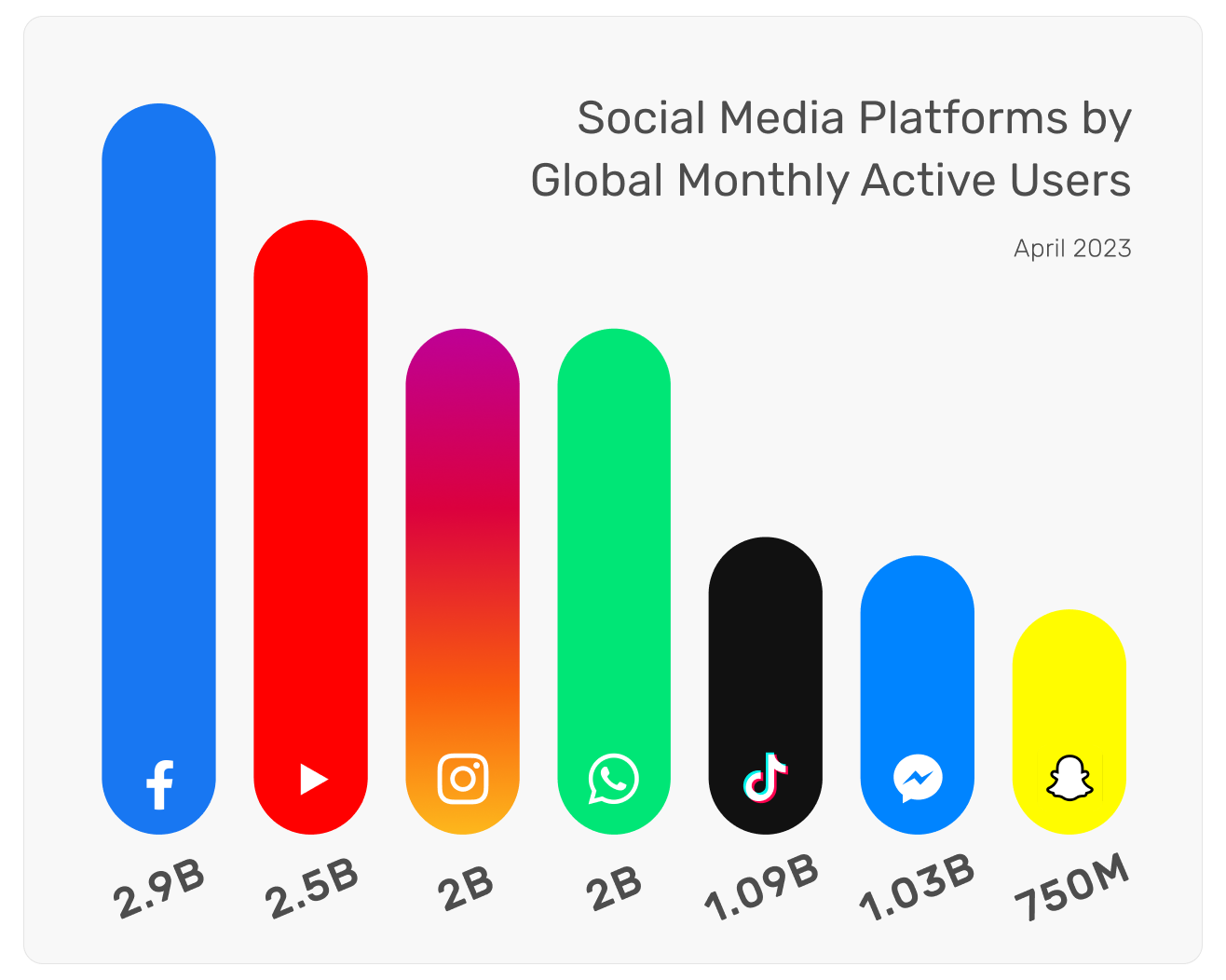 Source: Datareportal
2. YOU CAN MAKE USE OF INSTAGRAM'S SHOPPING FEATURES
Instagram has changed the face of social commerce, with plenty of interactive shopping features that brands from all industries can utilize. Instagram is extremely user-friendly, making it easier than ever to convert eyeballs into sales. Plus, all Reels can be linked to items in your shop, which users can browse and purchase without ever leaving the app.
3. YOU CAN GET CREATIVE
Reels are getting more creative and easier than ever to make. Instagram has rolled out a ton of new Reels templates and constantly encourages creators and brands to think outside the box. Meanwhile, apps like CapCut and InShot are also helping us step up our game and create eye-catching content.

Meta's focus and investment in Reels as a product make it clear that it's an excellent place to invest energy to make the most of Instagram's algorithm. Since the beginning of 2022, Reels have been the most engaged-with post type on Instagram.
4. YOU CAN SHOW YOUR BRAND'S PERSONALITY
While Reels should be part of your marketing strategy, it's important to remember they're not ads.
Make sure your Reels content represents your brand authentically. Your videos should be relaxed and entertaining but not overly sales-y. Jumping on trends, showing customers behind-the-scenes footage and collaborating with creators for a more human approach are all ways to avoid coming across too business-like.
Our top 5 tips for creating engaging Reels
1. CREATE ORIGINAL CONTENT
Instagram's algorithm favours original content over content that already exists elsewhere online. While TikTok and Reels are similar, creating distinct content for each platform is a good idea, rather than just sharing the same thing across all your platforms.
2. HAVE A GOAL IN MIND
It's not enough to simply throw everything at Instagram and see what sticks, you need to build your Reels strategy towards a specific goal.
Depending on your business, here's a few ways to approach your Reels content to meet different objectives:
Building brand awareness
Tell the story of your brand and talk about your values and USPs in a way that's appealing to your unique target audience.
Driving more sales
Show your product in action and focus on the benefits. For example, a cosmetics brand might shoot a before-and-after video, while a food brand could lean into a cook-up in the kitchen.
Community growth and engagement
Engagement is the bread and butter of social media - the more engagement you have, the more successful your posts will be.
Show up on camera and interact with your community. Try creating Reels in response to comments, ask your audience for their opinions or give them a reason to share your content with someone else. Experiment, but remember to keep track of what works.
3. TAKE ADVANTAGE OF REELS FEATURES
There are so many features built into the Instagram app itself that are incredibly easy to use. Try experimenting with:
• On-screen text and captions
• Music
• Remixes
• Shop links
• Polls and quiz stickers
4. JUMP ON TRENDS ASAP
As you know, social trends are fast-moving. You don't want to be the brand using a trending format a month late. Using Instagram itself is the easiest way to stay on top of trends, so make it part of your routine to take a few minutes each morning to scroll through the Reels tab and take note of what you see appearing again and again.


5. WORK WITH CREATORS
This tip is the most important because it will help you nail the others. Creators know the ins and outs of social media better than anyone.
With the added benefit of gaining access to their own engaged audiences, building a community of creators who genuinely love your brand will:
• Bring unique and creative ways to celebrate your brand and a variety of content from different perspectives.
• Help you generate the volume of short-form videos marketers need for both organic and paid socials.
• Add authenticity. 78% of consumers say creators are influential in helping them discover a new brand, and 71% of Instagram users have taken a shopping action as a result of seeing creator content. Why? Because consumers relate to, and trust, genuine recommendations from creators.
Best of all, creators are an effective way to help you move at the speed of trends. By building your creator community with TRIBE you'll access thousands of talented & diverse opt-in creators, and our industry-leading tech and team of experts bring the tools and expertise to manage and measure the ROI of your campaigns.
Looking to enhance your Instagram Reels and creator marketing strategy?