Want to ditch your day job to do something you love? Or would you prefer to set up an epic side hustle? Truth is, you might already have the answer.
We're talking about your social accounts! Did you know that if you have 3k+ followers on TikTok Instagram, Twitter or Facebook, you can turn this into an income? How? Basically, you'll be paid to create content celebrating brands you already use and love! And with no hidden fees, you get 100% of what you charge!
Here's how:
Step 1: Choose a budget to suit
your lifestyle
Draw up a table with two columns. Fill one side of the column with 'needs' - the stuff you can't live without. For example, rent, food, Nutella (obvs).
Fill the other side with your 'wants' - the stuff you could live without, but would have in an ideal world. Like beer on tap.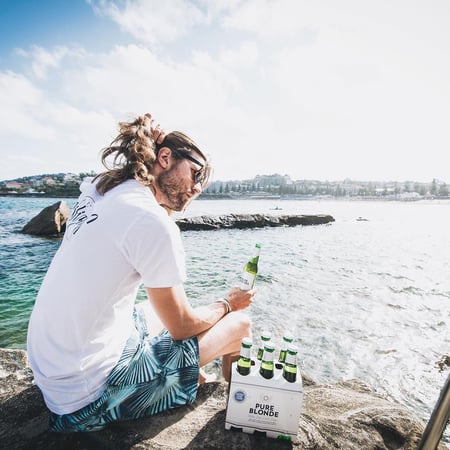 @

citizensoftheworld for Pure Blonde
Why are we doing this? No, we aren't expanding into finance. You now know the monthly budget you need to survive, which means you can strive to live a life free from the 9-5 grind - all you need is the monthly 'needs' budget.
Now it doesn't seem THAT scary to leave your job and go influence full-time, does it? And if it does, well no-one's stopping you from starting your own side hustle without the hassle.

Step 2: Define a value for your sponsored posts
If you've never earned cash from your social media before, it can be hard to put a value on yourself.
With the TRIBE app, you have the freedom to set your own fee when pitching to campaigns. If you're not sure where to start, check out our Creator's Guide to Setting Your Own Fee. (You can access this guide at any point by clicking the (i) icon when creating your submission.
Remember not to undercut yourself. You work hard on your content, so stick to your rate and let the brands make the decision from there. If they'd like you to lower it or have any feedback, you can chat with the brands through our handy chat feature!

Step 3: How many posts do you
need to fund your lifestyle?
Let's say you have 30k followers on Insta, you're a brunch enthusiast and need around $3.5K per month to live. This means you're in the $350 range per post.
According to our calculations, you only need 10 posts per month to make ends meet. Good lord, that's only one every 3 days... cheers to that!
Step 4: Download the app
You can find us in the Google Play Store or in the Apple App Store.
Download the TRIBE app, create an account and start browsing the many categories we have available - 'food & drink', 'travel', 'health & wellness' etc.
There are plenty of brands looking for killer content, so we don't recommend branching out into anything that doesn't feel authentic. Always be mindful that your audience trusts you, so if you get too carried away with sponsored content, they might unfollow.
Next, select a campaign, read the brief and if the stars align, it's time to get started!
At this point, it's up to you to create a post and submit it to the campaign. The beauty of TRIBE is you don't need to contact the brand beforehand - anyone can submit a sponsored post on the app. You're all on a level playing field, no matter how many followers, so let your content do the talking.
Step 5: Pitch to a campaign
There are loads of campaigns in the TRIBE app, so select the products you already use and love.
First, Click 'CREATE SUBMISSION', select the format you plan to publish and upload your Pitch.
If there's anything to remember, it's to be yourself, apply your own flair and take some risks. Click here to learn how to nail your pitch.
Now the brand will (fingers crossed) love your pitch and Pre-Approve you to shoot and submit your final content. They reach out via the chat function with any extra feedback or to sort shipping of their product (if required). Once you've resubmitted, they'll give you final approval and you'll post the content to your socials, and we'll process your fee in as little as 48 hours or 45 days; depending on which payment option you select!
If you're not approved for the campaign, don't be disheartened! No one on TRIBE has a 100% win rate - all you've got to do is seek out some feedback and keep at it.
Step 6: Plan your next post
Remember, you're doing this brand influencer thing full-time now. No slackin'. The most successful creators on TRIBE spend at least a day planning and creating each post, so don't go thinking it's gonna be Netflix all day e'ryday.
The truth is, as well as helping you do what you love full-time, being a creator with TRIBE is pretty fun too. This makes it easy to start crafting more posts more often.
And you couldn't have picked a better time to learn how to become an Instagram influencer - never before have brands been so hungry for influencers to recommend their product.
If you know how to make valuable content for both your audience and a brand, you'll be earning cash quicker than you can count it!
Download the TRIBE app below to see just how easy that career change can be: