The only certainty with the creator economy is change.
From the early days of paying influencers to help drive brand awareness, to global brands now running million-dollar strategies - creator marketing has evolved into a vital part of modern-day marketing.
Throughout this change, the answer to one question has evolved the most - 'How much do creators cost?'
Ultimately, there's no one-size-fits-all with creator rates. Like actors, photographers, writers or designers - rates are dynamic and all creators have a different value.
Keep reading for 6 important factors creators consider when setting their fees.
1. FOLLOWER SIZE:
There was a time when influencer rates were only dictated by audience size - the more followers, the higher the rate. But modern creators have varying degrees of skill, talent, and ability to reach your customers via their audiences and social media expertise.
While it's no longer the only metric for determining creator rates, it's still a good starting point. Just remember, a post's reach can far exceed a creator's follower count, thanks to the evolution of TikTok's 'For You' page and Instagram's 'Explore Tab' and 'Reels'.
Check out the table below for ballpark rates.
2. CONTENT TYPE & PLATFORM:
Short-form video dominates social media in terms of reach and performance. By nature, video requires more time and skill to produce, so creators will price accordingly. Ie. a TikTok creator posting a video will charge more than an Instagram creator posting a single still image.
The benefits of working with creators to produce short-form video can't be ignored, which is why TRIBE's unique Pitching and Pre-Approval process is the secret to unlocking high-performing video content.
3. EXPERIENCE & SKILL:
Just as you'd expect, experienced creators know their worth and this should be evident in the quality of their content. If you're unsure, check out their TRIBE portfolio or click through to their social profiles to see what they're made of.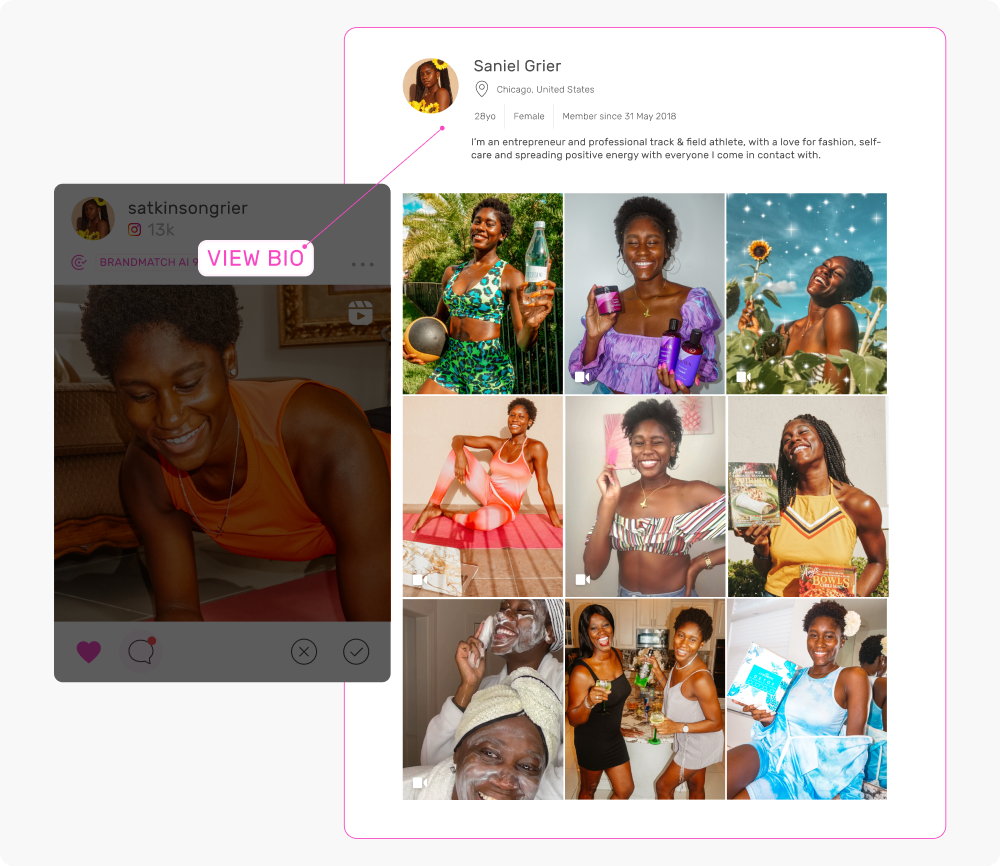 4. ENGAGEMENT:
If a creator has consistently high engagement they'll consider this when setting their fee. Just remember, it isn't the only metric and creators who are still working on increasing their engagement are still valuable.
How much you value engagement as a metric comes down to your personal objectives.
5. TIME & PRODUCTION COSTS:
No two briefs are equal and some require creators to invest more time or money to create their content. Creators go out of their way to impress you so they may include those costs in their fee to ensure they have what they need to make your content that extra bit special.
6. LONG-TERM RELATIONSHIPS & EXCLUSIVITY:
Developing long-term relationships is a great way to achieve results and you'll find creators rates may change if you're planning a multi-post collaboration.
While long-term collabs can be cost-effective in terms of cost-per-post, you're also purchasing real estate on a creator's social feed which can impact how many other partnerships they can run. Our tip? Ensure you're finding a mutually beneficial agreement and negotiating fairly.

Navigating creator fees in TRIBE Campaigns
On TRIBE, creators set their fees alongside a pitch detailing the creative idea for your campaign. These fees do, and should, vary so here are our top tips to guide your decision making.
Consider your overall budget and objectives
Look at your campaign as a whole, not as individual creators and posts. Creating shortlists of your fave creators will aggregate your estimated spend and performance allowing you to make more holistic decisions.
Negotiation is a two-way street
From your shortlist tab, if a creator you love falls just outside of your budget you can negotiate. Creators know if they're being low-balled so make a considered counteroffer based on your needs while also considering theirs.
Negotiation is an art and no two creators will be the same so, maintaining a collaborative mindset is vital.
Lean on your TRIBE team
By subscribing to TRIBE you access a team to help set your goals and objectives and offer insights into selecting creators to work with. Creator marketing isn't a short-term tactic so reach out when you have questions and take advantage of your quarterly business reviews to ensure we're consistently working towards your goals.


Want us to handle all things creator fees?
If you're looking for a solution that delivers the creators you need to reach your unique objectives, chat with us about TRIBE Plus. Depending on your needs we can tailor a plan of deliverables with set creator fees giving you the freedom to focus on your overall strategy with ongoing support from our team in setting your goals and achieving them.
To learn more about TRIBE Plus get in touch with our team or reach out to your Customer Success Manager.