It all began in early August when one user shared a post simply stating "Make Instagram Instagram again", calling out the radical changes Meta had introduced. The post blew up, with over two million likes and shares (we know, that's impressive for a static image post in this day and age!) The most surprising part, however, was that it was shared by celebrities including Kim Kardashian and Kylie Jenner and reported on by basically every outlet under the sun.


As you're likely aware, Instagram has gone through a lot of changes recently and to put it lightly, users aren't happy. Every single person who is on Instagram — whether a brand, creator, or simply a user — has been affected by the changes. What have people been grumbling about? Algorithm adjustments, the focus on Reels, and the high volume of 'suggested' posts being served in-feed. And of course, when you rely on the app for income, the stakes are a little higher.
So how did we get to this point? Let's take a look at the recent Instagram changes that have everyone up in arms.
What are the Instagram changes?
Layout changes
Starting in May, Instagram began testing a new home feed, which as users scroll the app, showed images and videos in full-screen (9:16 size) with the captions at the top of the screen. The idea behind this? According to Instagram chief Adam Mosseri, it was to make Instagram an app where "video is a bigger part of the home experience, where content is more immersive – it takes up more of the screen." Live videos also showed up in the home feed, instead of just being relegated to the Stories circle.
Even though it wasn't rolled out to everyone, there was a lot of backlash to the beta testing; to the point where Instagram reversed its decision and cancelled the rollout in July.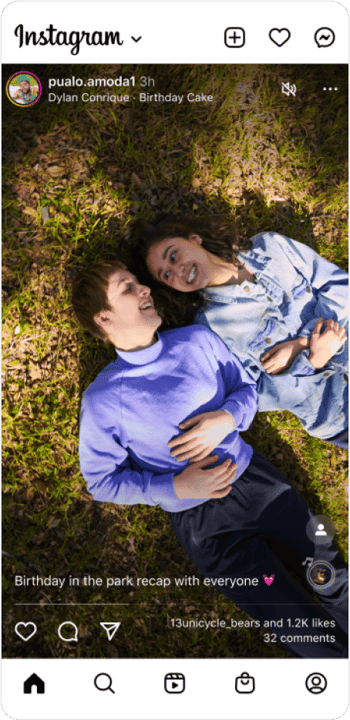 Feed changes
As of earlier this year, Instagram users can now tailor their home feed to see only the content they want to see. The three options?
1. Home is your regular feed, including suggested posts
2. Following will only show you content from people whom you follow
3. Favourites will show you only content from accounts you've added to your Favourites list.
Users have to actively switch to the type of feed they want to see every time they open the app, as the Home setting is the default.
Video is now the priority
Instagram is tripling down on the video format. Since Reels launched in late 2020 as a competitor for TikTok, it's been clear that users who post Reels are favoured by the algorithm.
Very soon, all videos shared on Instagram will default to be Reels. This means no more video posts and no more IGTV. The feature began rolling out to users in July and will be platform-wide in no time.
This shift also comes with new features for creating Reels in-app:
• Reels Video Merge
• Reels Templates
• Remix Improvements
• Dual Camera
Monetisation options
Instagram is in the process of rolling out more ways for creators like you to make money from the app – specifically subscription models. Users can pay a fee (between $1-$100 per month) to access exclusive content from creators that they love. This is a good way for creators to establish a more stable income from the app.
Instagram's changes… why so many?!
Obvious by the massive backlash that has come from these alterations to the Instagram app functionality, people don't love change. Instagram was fine as it was, why change anything, right?!
There's no denying that TikTok's runaway success has played a key factor here. The relatively new app has shown just how successful and powerful short-form video can be, and Instagram wants a slice of that seemingly-endless pie. It simply makes sense for them to push Reels as a product when they're trying to compete with TikTok.
Ultimately, Instagram wants to keep its users happy, which is part of the reason why it walked back some of the changes made earlier this year. However, the head of Instagram, Adam Mosseri, stands by their decision to ramp up Reels. "More and more of Instagram is going to become video over time," he said in a video, explaining that that's simply where users are putting the majority of their attention.
But we can't forget where Instagram started – as a photo-sharing platform for friends. So we're asking: is a pivot to video really what people want?
If you love creating content and want to work with brands you already know and love, TRIBE can help you do just that. How? By giving you a platform to pitch your creative ideas to loads of fresh Instagram and TikTok campaigns from your fave brands.