Pinterest is having a real moment right now. Though it's been around for over a decade, active users have surged lately. The aspirational platform is the perfect place for brands to establish themselves as leaders in their niche, especially for those in the home decor, beauty, fashion, and wellness markets.
We've already covered exactly how brands can be leveraging the platform to maximise their social marketing, but now let's look at some of the brands who have made the platform their own, carving out a space for themselves and their customers.
IKEA
IKEA has taken its marketing strategy above and beyond, creating an interactive space for its followers on Pinterest by making great use of modern technology. Users can take a quiz on the type of vacation they'd like to take — in the style of BuzzFeed and other Millennial publications — and IKEA will give them a Pinterest board of IKEA products that'll bring that holiday vision to life in their homes. Not only are they personalising the Pinterest experience, they're also organically recommending products to potential customers, increasing the likelihood of acquisition.


Samsung
Samsung uses Pinterest as a great tool to promote their home goods products — an organic fit since the platform is used by so many for home decor inspiration.
The imagery that Samsung uses on Pinterest is aspirational, letting people see beautiful homes with Samsung products as the centrepiece. Their aim? For people to repin these images as inspiration and then continue seeing Samsung products each time they browse their home decor boards.
They've also done cool collabs with Pinterest. Some brand integrations come across as forced but Samsung thinks outside the box when it comes to marketing on Pinterest. In fact, they collaborated with the app to release the first ever "flippable pin" to promote their new Z flip phone.


ASOS
Fashion and Pinterest go hand in hand, and online clothing brand ASOS has leveraged this, establishing itself as a stellar creator of organic fashion-focused content on the platform. ASOS has made good use of Pinterest as a way to advertise, without hitting consumers with a hard sell.
They use Pinterest to express their fun brand personality while giving people lots of great photos to look at to help inspire their next looks. Again, it's all about keeping the brand top of mind rather than getting clicks and closing sales.
However, when customers are ready to buy, ASOS makes it easy using Pinterest's Shopping Pins. When a user sees something they like, they can easily tap the Pin to head straight to the item's listing on the ASOS site.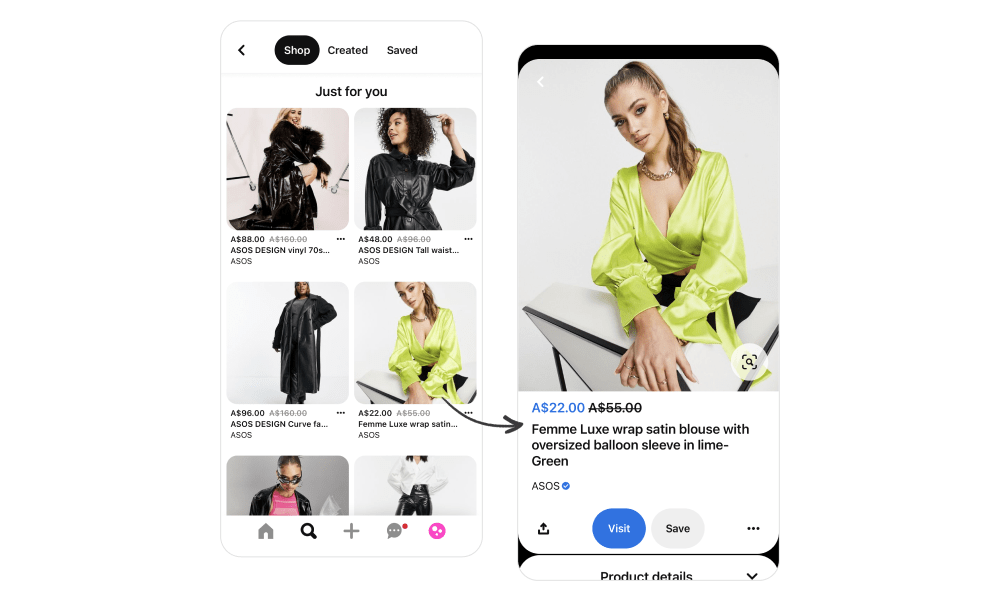 Not on the High Street
Not on the High Street does a masterful job of utilising saved boards. Users can follow each board individually, based on their interests, and will get a continuous stream of the brand's posts in their Home Feed.
They also make good use of Pinterest's shopping functions, just like ASOS, with every Pin that features a product meticulously linking to the item on their site.
The brand also uses a lot of in-platform hashtags and popular search topics to help highlight some of the smaller brands they stock. Think of Pinterest as a search engine rather than a traditional social media platform. Using keywords and hashtags — like you would when optimising a website for SEO — will help Pins and Boards show up in relevant user searches.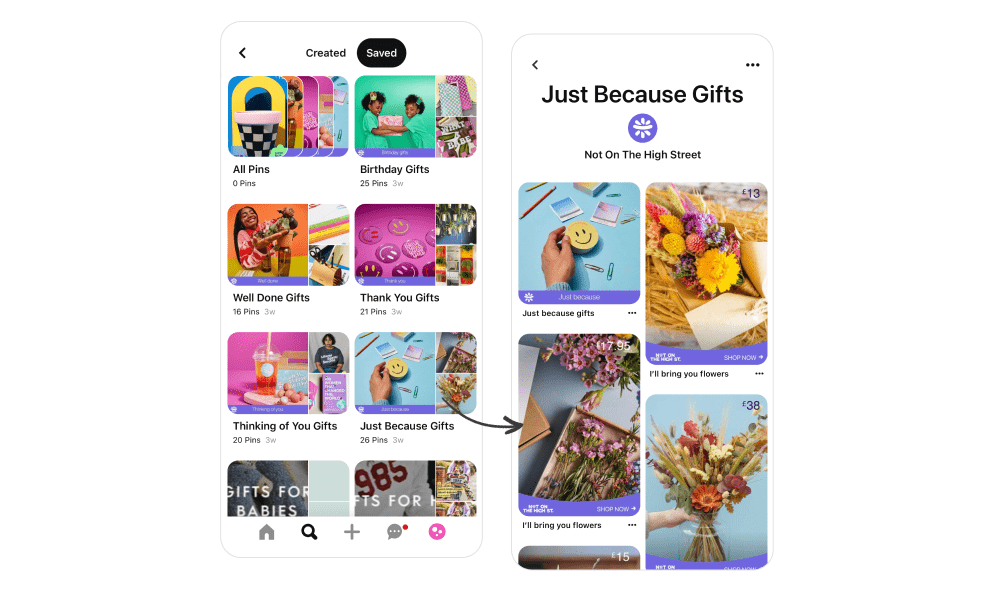 Lush
Beauty and cosmetics giant, Lush, has created a well-known brand identity across social media (and in-store) so of course their Pinterest presence is no exception.
Along with their Pins featuring products and aspirational bathroom decor, Lush uses Pinterest to give customers a peek behind the scenes. They also leverage Saved Boards to divide their products into different categories, including seasonal items, helping users narrow down exactly what they're interested in.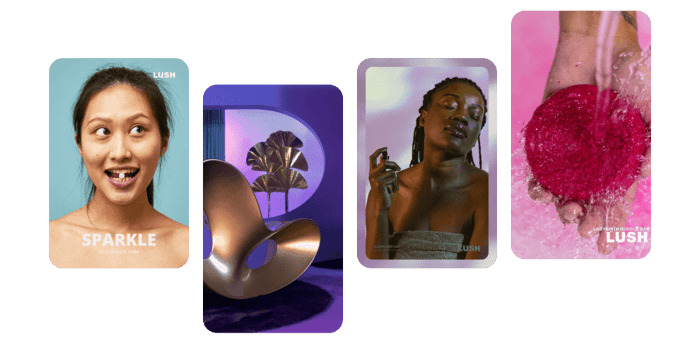 Interested in sourcing creators for your very own Pinterest campaigns? TRIBE's expert Customer Success team can help you set objectives and create a campaign from scratch.