"We want to ensure that Creators have the best possible chance of making money that is fast, easy and fun through TRIBE"

Jules Lund, Founder and Chief Innovation Officer at TRIBE.
Jules has hit the nail on the head there. As the founder of TRIBE, he knows how important Creators are to ensure TRIBE campaigns are successful for brands. That's why we are working hard to improve the user experience for the thousands of talented Creators in the TRIBE community.
Here's a look back at some of the recent improvements we have made and a sneak peek at an exciting update we have coming soon: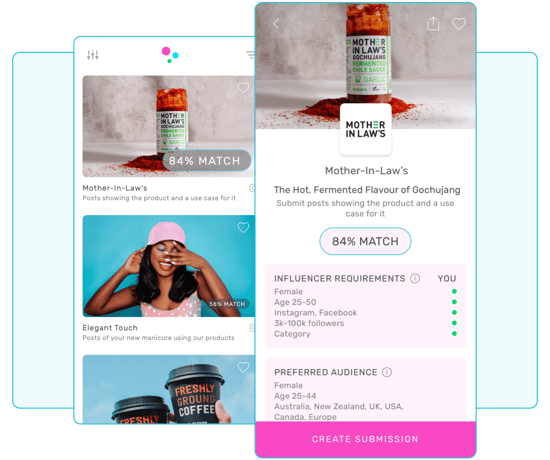 BrandMatch
Straight up, BrandMatch is all about helping you win more AND earn more.
BrandMatch helps you focus your time, and effort on the campaigns that offer you the highest chance of winning by showing you a percentage score for each campaign. The higher the BrandMatch score, the more chance you have to win. And the more you win, the more you earn!
In a nutshell, you will save time and effort by submitting to campaigns you're more likely to win, which should lead to you winning more of the campaigns you submit to.
BrandMatch is a percentage relevance score that indicates how compatible you are with a brand's requirements for a campaign. It's calculated based on how well you and your audience match with the requirements the brand has for the campaign, as well as your success at TRIBE with similar campaigns.
For the full deets on BrandMatch click here.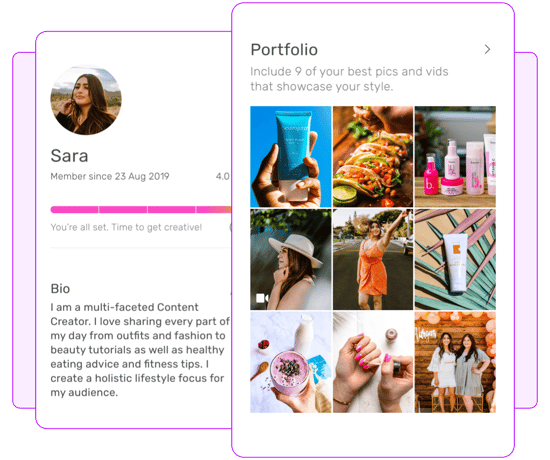 Creator Portfolios
Your Creator Portfolio screams "Look at Me". It's like having your own hype-man to attract the attention of brands who are looking for talented Creators. The Creator Portfolio allows you to not only TELL brands a little bit about yourself but also SHOW them via a collection of your most amazing pics and clips.
First impressions matter and the Creator Portfolio helps you nail yours! Showcase your talent and give brand managers an overview of your personal style and creativity. Upload 9 of your best pics and clips, as well as a headshot, and write a short bio to complete your portfolio.
This is a win-win feature for both brands and Creators. If brands can get a better idea of who you are and the content you create, your chances of winning campaigns increase.
If you haven't already set up your portfolio, follow the steps here.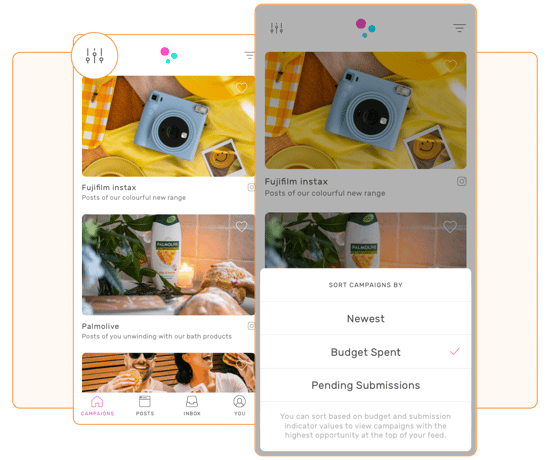 Brief Sorting Options
With the pace of new briefs being added to the TRIBE app showing no sign of slowing down, it can be hard to keep up. Finding the brands that you want to work with is important, but identifying briefs with opportunities to earn cash, is also key.
To help you identify the briefs with the biggest opportunity, sort them by 'Budget Spent' or ''Pending Submissions'. In effect, this will give you a list of Hungry Campaigns on the fly. Hungry Campaigns are those that have the budget to spend or where submission numbers are lower.
Budget remaining + low submissions = opportunity to earn!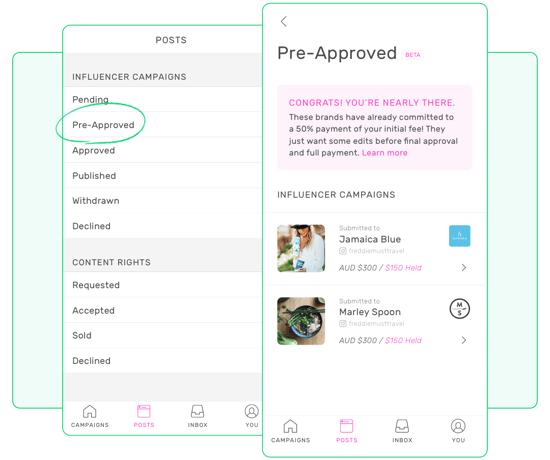 Pre-Approval
A while ago, we received some feedback via the 'Suggest a Feature' section in the app:


"As a Creator, I'd like some level of commitment from the brand before they request I edit and resubmit my post."

This suggestion turned into our Pre-Approval feature, which has been a win-win for Creators and brands!
Pre-Approval means that brands need to commit to paying 50% of your fee before they request any changes. In other words, they are asked to Pre-Approve your original submission. This means, before you resubmit to a campaign, you're already guaranteed half of your fee!
We know that crafting the amazing content you create takes a lot of thought, time and effort; and we think you deserve to be rewarded for your hard work.
So there you go, just a few ways we are improving our user experience for Creators on the TRIBE app.
But what about future updates...well, have you heard about a social media platform called TikTok? 😂
If you aren't creating content on TikTok, what are you waiting for? One of our most exciting updates is coming, where you will be able to work with brands you love on TikTok, via the TRIBE app, just like you do with Instagram currently. If you aren't up to speed on all things TikTok, we've got you covered with Everything You Need to Know About Becoming a TikTok Influencer.
Just another way we are giving you more opportunities to earn with TRIBE!
Ready to put your newfound skills to the test and start working with brands on Instagram or TikTok? At TRIBE, you choose the brands you work with. The brands you already use and love, and that align with YOUR brand, are those that your followers love to see you promote. So, take your pick!