Influencer Marketing is the fastest-growing customer acquisition marketing method. Nearly 40% of marketers say they are now dedicating a budget for influencer marketing, and 80% report influencer marketing to be effective. As a billion-dollar industry and the future of advertising, influencer marketing isn't going anywhere. But if you've never used it before, you may have a few questions.

How do I achieve ROI? Where do I find influencers? How much does it cost? How much time is needed to run a successful campaign?

While it may seem confusing, influencer marketing is actually incredibly easy to use and the most effective way to get people talking about your business. And here's why.
Influencer marketing
Influencer Marketing is no longer an industry dominated by celebrities and socialites who've been paid to hold up a product. The focus has shifted towards authentic, passionate content creators with small but loyal followings – everyday people who produce beautiful content and personally engage with their audience.

A 'micro-influencer' is pretty much anyone with 3-100k followers on their social accounts. They know their content, they know their niche, but most importantly, they know their audience – they're not going to post about beauty products or clothing brands if their audience is interested in gardening or gadgets. This makes the recommendations micro-influencers give not only genuine and authentic, but targeted towards a particular market – which is perfect for small businesses trying to reach a specific audience.

This enables brands, start-ups and small businesses to connect with customers who already use and love their products, and enlist them to do your marketing for you.
Consumers trust other users more than a branded message
Not only does it make more economic sense to use micro-influencers, but it is also a more effective way to grow your business and cultivate customers. Micro-influencers are proven to generate 60% more engagement than the average celebrity influencer – that's 22 times more average weekly conversations on every post! This comes down to one simple fact – consumers love hearing from other consumers.

It's no secret that celebrities are much more visible, but this doesn't necessarily mean that they are more influential. Generally, influencers with smaller followings receive higher engagement on their posts. Research shows that a micro-influencer with 3-10k followers will receive around 4% engagement, as compared to someone with 100k followers, who receives around 2% engagement on average.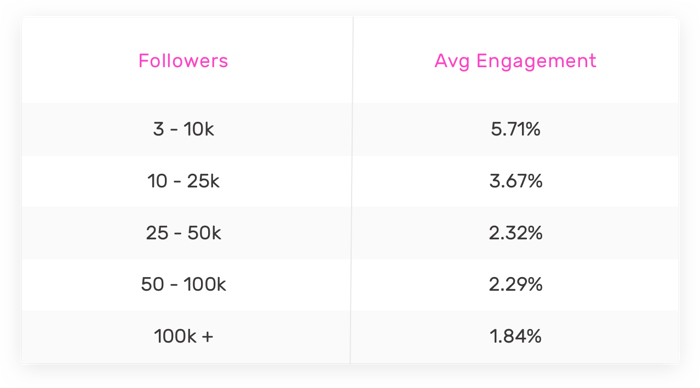 While it may seem like that million-dollar smile and multi-million follower count is worth every cent, by harnessing the power of micro-influencers you can spread your budget across multiple influencers and multiple audiences, generating unprecedented reach and localised engagement.
How TRIBE works
Contrary to popular belief, you don't need to be a big brand to use Influencer Marketing. In fact, it is an equally if not more effective tool for budding brands and small businesses. With TRIBE, it's as simple as creating a campaign brief, setting your campaign objectives and specifications, then letting the power of Influencer Marketing get to work.

Influencers will then create content for your campaign, name their price, and submit to your brief. Unlike traditional influencer marketing methods, you get to review content upfront, and choose influencers based on the content they've submitted.


Detailed campaign feedback makes your campaign's engagement, reach and return on investment (ROI) completely measurable, and influencers' activity is regularly monitored by our compliance teams daily to ensure the engagement they generate for your business is authentic.
Tech makes finding influencers easy
As technology continues to evolve, it can be easy to get overwhelmed by social media. For many businesses it has become merely an afterthought, only to be looked at once more important business has been taken care of. But in reality, cultivating brand awareness is the most useful thing you could be doing to grow your small business.

With TRIBE, you don't need an existing influencer network or a massive marketing budget to get started. You simply choose the posts you like, negotiate the price of each submission based on a recommended charge, and then scale the campaign up to the level that suits your business.

While the stats don't lie, the most valuable thing about influencer marketing isn't the reach or engagement. It's being able to directly target consumers who want to know about your business. Influencer marketing is able to generate real recommendations and real leads, from real people that love your product. Who better to create advertising your customers love, than the customers themselves?

TRIBE provides small businesses with high-quality imagery tailored specifically to their brand, which they can re-post or purchase for their own use. It gives brands access to an untapped pool of talented content creators, each of which have their own pool of loyal followers ready to be turned into customers. It's word-of-mouth marketing at scale.