I'm Bec, a dietitian from Sydney and an influencer as @nourish_naturally!
I just passed a massive milestone recently and I wanted to share it with you all.
I've made more money from being an influencer in my spare time, than from my full-time job as a dietitian!
I've made over $110k with TRIBE, and I'm constantly pinching myself that I can make a living from my passion for healthy living. It's been an amazing journey.
So, I thought I'd talk about how I got here and a share a few important insights I've learned along the way!

Life Before Becoming An Influencer
I graduated with a Bachelor of Nutrition & Dietetics at the University of Wollongong (UOW) and started working as a dietitian with The Royal Flying Doctor Service, travelling to rural towns to work with Indigenous communities. In the meantime I opened my own private dietetic practice in Sydney.
Initially it was difficult. I needed to build up my clientbase, so I continued to work with the RFDS.

The work was rewarding and it added fuel to my fire, because so many Australians can afford to live a healthy life, yet sadly don't. I wanted to find a way to motivate people to do just that.

I often got asked about healthy living from family and friends. Things like recipes and workouts, so I took to Instagram to reach more than just one person at a time.

I started with a few hundred followers for @nourish_naturally, and uploaded pictures from my day-to-day life with lots of health tips thrown in.

Since there, things have grown and grown and grown!

How My Following Grew
People liked what I was doing, and I started getting strangers following me. This, mixed with new clients from my practice, started to get the ball rolling. Then, I was lucky enough to have a few large accounts feature my photos!

I put a lot of my growth on Instagram down to posting good advice with quality photos. I made sure I was always being authentic and true to myself.

If you align all of your activity with your values and stay consistent, you'll be rewarded for it!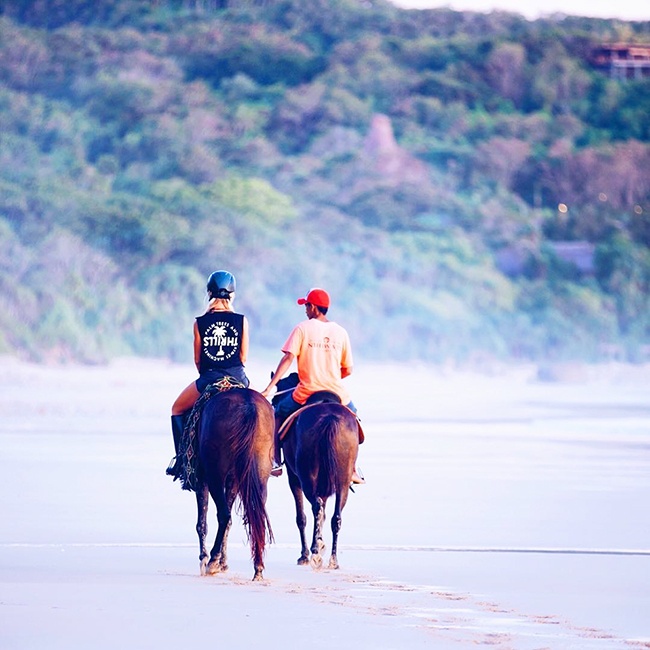 When you post genuinely helpful content, people want to share that with their loved ones, so they can spread the word to live healthier and better. Growth comes from being valuable to people.

Brands then started to get in touch with me to do collabs. They would sometimes send me freebies in return, and my follower count kept going up.

But I realised that I needed to start charging brands for my posts. Anyone who has tried influencing knows that it can take a long time to get the perfect shot, let alone negotiate with brands.

All of these free collaborations were taking time away from my private practice work, which was meaning I wasn't making much to live on!

Then I found the TRIBE app, which changed everything.

It was a game changer for me because it has hundreds of brands on there, many of which I already used and were sitting in my kitchen!

The recipes and health tips I uploaded were perfect for TRIBE - just head to the app's 'food and drink' section to see what I mean.

This meant I could recommend the brands I already loved and get some money back on it too.
My First Ever Post on TRIBE
To give a bit of insight into how it works, I'll walk you through my first ever post with TRIBE.

It was for Carman's new Cafe Granola. It was almost the perfect campaign, because I eat Carman's muesli ALL THE TIME.

I came across the brief in TRIBE's app, which required me to feature how I would enjoy their new product range. So, I made a smoothie, put together a nice muesli and blueberry combo in a cute little wooden bowl and voilà! I had my first TRIBE post: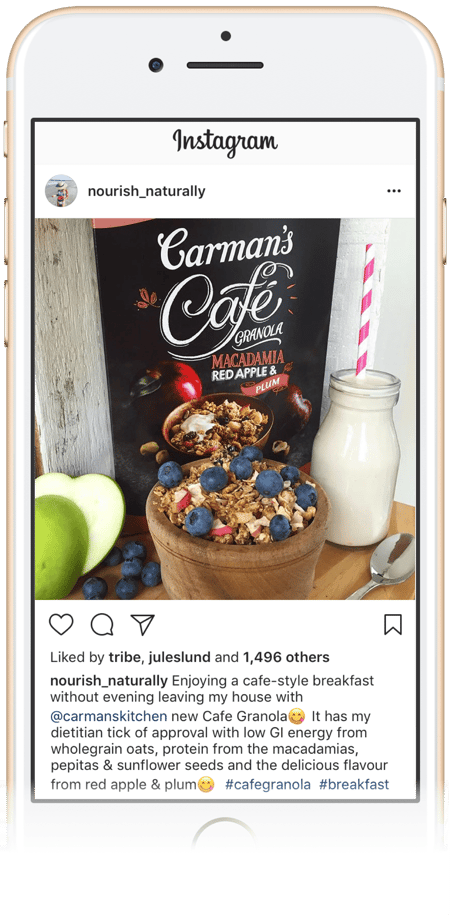 All up it took me about 30 minutes to put together. Luckily, Carmen's approved me and I got my first payment as an influencer!

Then from there it just kept growing: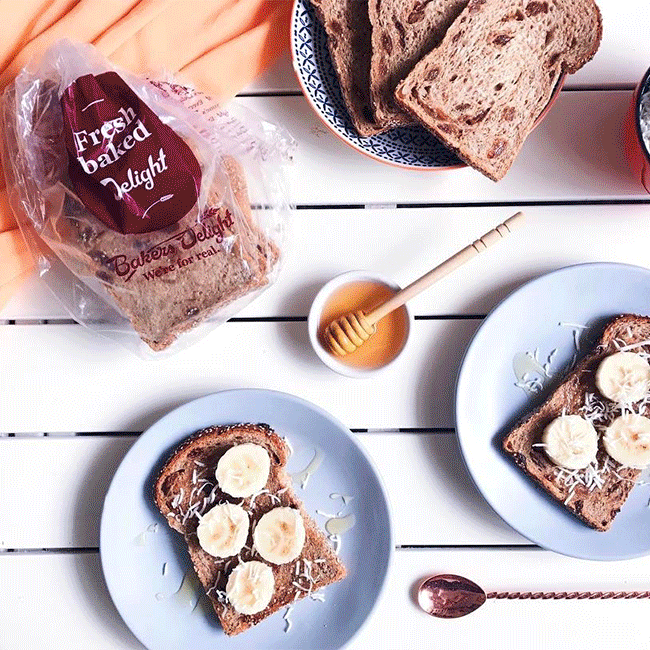 I still work full-time in my dietetics practice, so TRIBE's given me the freedom to pursue what I really want to do with my life and not have to rely on the income from it!
From making money with Instagram while doing what you love, to working with the world's biggest brands, the influencer life is pretty good!
Check out the app to see what I mean👇