Producing content that celebrates your brand is difficult. Especially at the LARGE volumes we now need for our digital advertising. What are your options? Creative Agencies are designed to produce high quality / high cost production assets, while Stock Image Libraries don't even feature your brand.
Yet you already have the solution.
While you've been running your Influencer Marketing campaigns on TRIBE, in the background you've been building your OWN Stock Image Library featuring your products!
Welcome to your TRIBE Content Library.

It's full of Influencer-Generated Content you can simply license for your own advertising. It doesn't have what you need? Brief the community for more. We've even surfaced all of the submissions you declined because maybe the influencer wasn't right. Well, now you can simply license their pic or clip in isolation. Check out the features of your personalised Content Library, and learn how to use it to fuel your ads!
What is your TRIBE 'Content Library'?
It's where you'll find all the submissions you've ever received to your TRIBE campaigns. You can browse through high-quality submissions from your own customers and find content to license and deploy across both online and offline channels.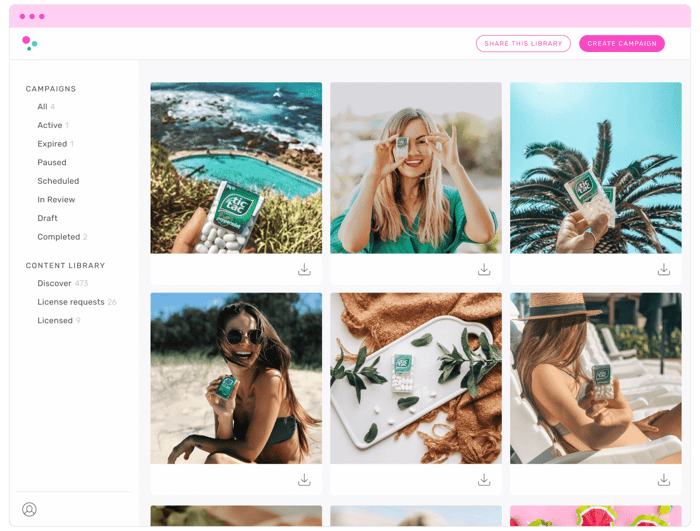 License images in your Content Library for useful things like:
1. Updating your website images
2. Sprucing up your print collateral
3. Dazzling your outdoor media campaigns
4. Creating targeted social ads
5. And a whole lot more!


How do you access it?
Jump into the TRIBE platform and check out the left-hand sidebar.
Down the bottom.
Yes, right there.
You'll see three different options under Content Library...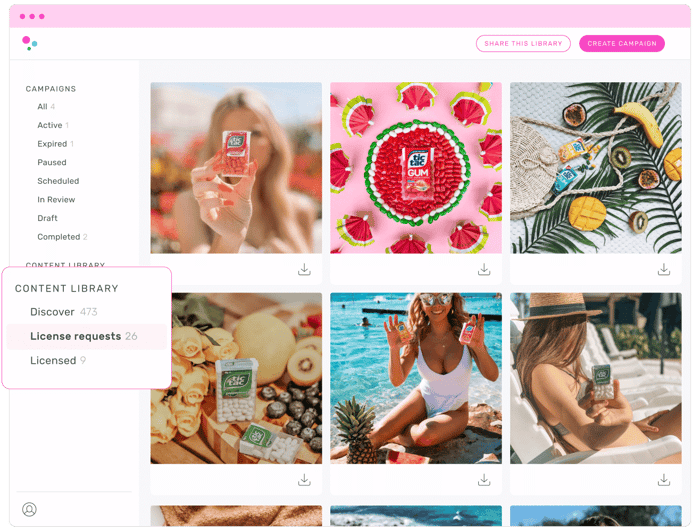 DISCOVER
Click on this tab to browse your past submissions and see all of this eye-catching content in a new light. If you like it, request the license.


LICENSE REQUESTS
Here, you'll see all the content you've requested to purchase from Creators. They'll need to accept your request before you can download it for your advertising.


LICENSED
When a Creator accepts your license request, your new advertising asset will appear here! A useful tab so you can manage it all in one place.

How do you use it?
Requesting a license is easy, just tap on the 'Download' icon within the submission. Once clicked, it'll pull up the licensing options and display the specific image dimensions.
We offer two license rights types
1. Online Channels – You can use the content on digital and online channels only; like your digital ads, social media or website.

2. All Channels – You can use the content on any online PLUS and offline channels including print, TV, outdoor, digital and more.
We also offer two usage options, meaning you can gain the rights to the content for either 12 months or for perpetuity.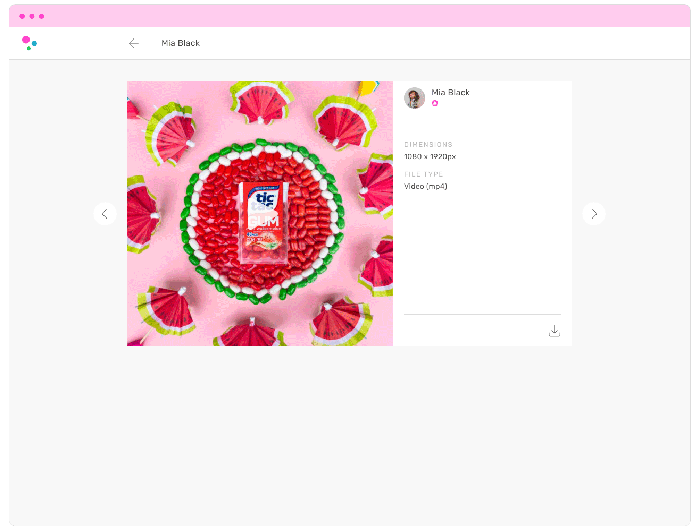 Once the Creator accepts your license request, the content is all yours to use for your marketing and advertising.


Why Content Library will revolutionize your advertising
IT'S CONTENT, BUT ON-DEMAND
Marketers (less savvy than you) may need to turn to stock image libraries, or scramble together a photo shoot just to refresh social ads. Not you! With a branded Content Library, turn the tap on wherever you need and your talented customers will have your back.


LICENSE YOUR BEST PIECES
The 'Discover' tab of Content Library is a great place for sourcing inspiration. It's packed full of beautiful, branded goodness created by people who know and love your brand.


SAVE TIME
By having a go-to Content Library, you can bypass the hassle of sorting through past campaigns to find those hidden gems you may have forgotten about. Simply dive in and get searching.


SAVE MONEY
Forget organising a branded photoshoot every time you need new images for your campaigns and collateral! TRIBE Content Library can hook you up with fresh pics for a fraction of the cost.


VARIETY AT VOLUME
Because the posts in your Content Library have been submitted by a range of different Creators, you'll always have a variety of styles to choose from!

What content should you license?
The content your audience has ALREADY told you they love! One of the best hacks TRIBE clients use is heading into the Published Tab of their past Influencer Campaigns and Sorting by Engagement. In a split second, the most loved content jumps to the top, ready for you to use in your advertising. The perfect creative split-test.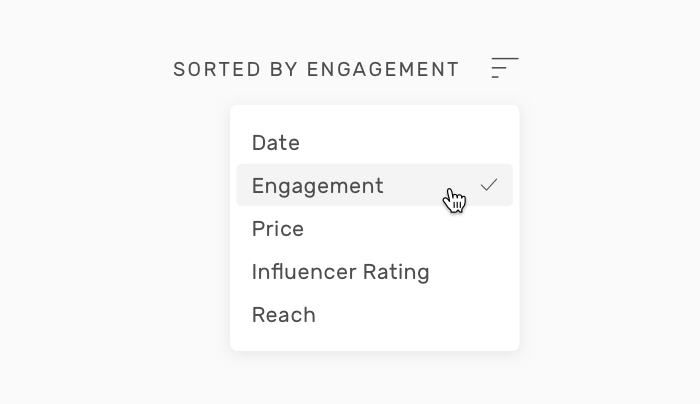 Haven't run a campaign yet?
If you haven't run a TRIBE campaign yet, well… there won't be any content in your Content Library! Not to worry, get in touch and our friendly team can help discover how TRIBE is the solution to achieving your Creator Marketing goals.