The holiday season is fast approaching and it's time to start breaking out the Christmas content. Think: mince pies, mistletoe, and massive gift hauls! But it can be hard to know where to start with so many holiday-themed ideas out there.
So, we thought we'd gather a few examples of some super festive Christmas pins that you can use to brighten up your Pinterest boards this holiday season.
Showcase your holiday decor
What's Christmas without the decorations? And because Pinterest is all about visuals, there's really no better place to show off your holiday space. Give your followers some inspo for their own decorations by putting together pins of your ornaments, stockings, and cosy fireside views.
This year is also a great time to explore something a little less traditional on the decoration front. Searches for "white Christmas tree ideas" are up by nearly 1000%, so look beyond the standard red, greens, and golds for something a little different this season.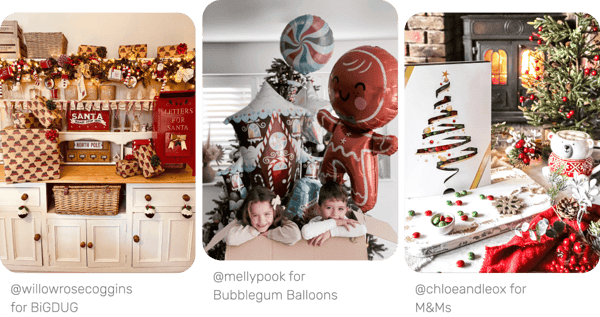 Display those (ugly) Christmas jumpers
We love an ugly Christmas jumper here at TRIBE. In fact, the uglier the better. And with Pinterest, you've got yourself the perfect platform to display your best festive looks.
From cool DIY projects to deeply disturbing sweaters, there are loads of things you can do with an ugly jumper this year. Just remember to keep the colours loud, the fit snug, and the look ugly.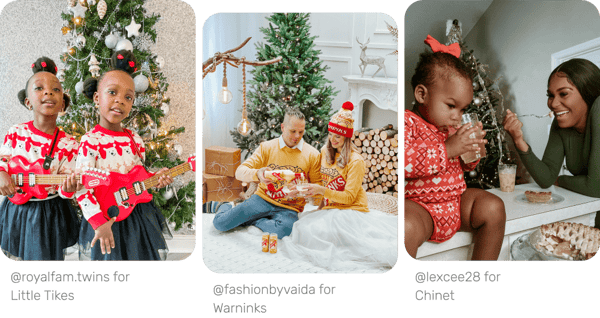 Do some Christmas DIYs
Speaking of DIY projects, there's no better time of year for some do-it-yourself goodness than the holidays.
We're talking: garlands, ornaments, wreaths, and the list goes on. The only limit here is your imagination and as we said earlier, this year is a great time to try out something a bit different with your decorations.
Quirky ideas like cupcake ornaments or little light-up gnomes will go over great. Or try out something a bit different, like this guide to making your house smell like Christmas.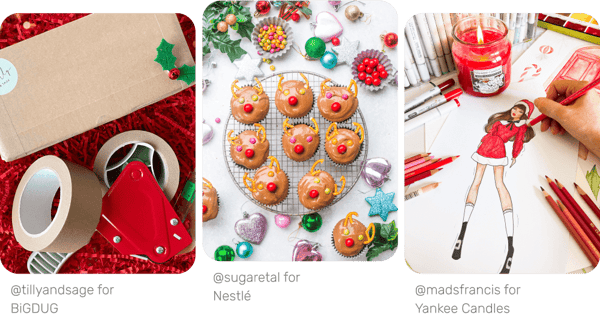 Create Christmas recipes
For us, it's not Christmas until we've eaten so much we could burst, so showcasing recipes is a great way to get some Pinterest traction. There are loads of ways to go with Christmas recipes – from fun bakes you can make with the kids and classy charcuterie boards shaped like Christmas trees to truly unique takes on hot chocolate. Think about using some classically festive ingredients like ginger, cinnamon, and red berries when coming up with your recipes.
And if you're looking for something a bit more adult, there are plenty of seasonal drinks out there, like warming mulled wine or cosy eggnog.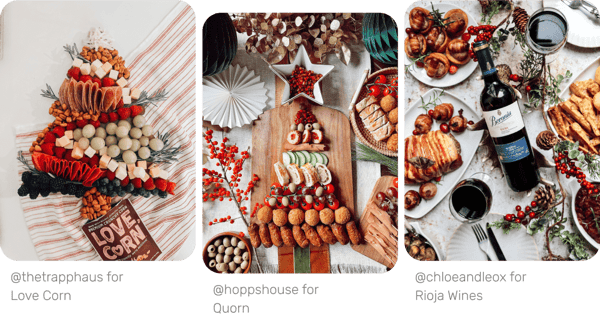 Put together gift guides
Everyone needs help with their Christmas shopping. Even if you've started early with your gift buying, there's no harm in providing a few more ideas regarding the perfect presents this holiday season.
Gift guides are a great way to help your audience decide what to buy their loved ones. You can do this in a single pin packed to the brim with gift ideas or even create whole boards dedicated to different gift guides — whichever it is, your audience will appreciate it.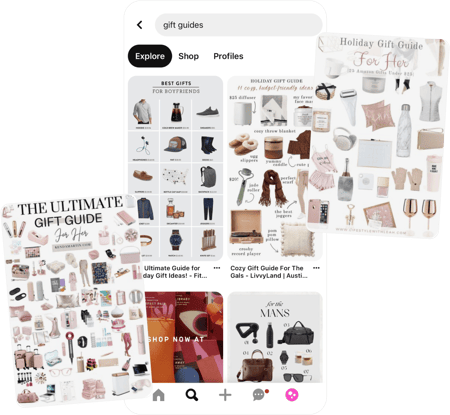 Partner with brands
Partnering with brands this Christmas can be a great way to give your audience a look at some of your favourite festive products.
When choosing brands to partner with, look for those that align with your personal brand and that your audience would be interested to see.
Consumers are also increasingly looking for brands that prioritise sustainability and embody socially conscious, progress-driven values so look for brands that make a real commitment to ethical business practices and cultivate trust and goodwill.
TRIBE can help you find authentic brands to partner with – ones that you already know and use!
Are you ready to join the community of creators that love creating content, and that are making money promoting products they love?