Being an influencer can be complicated and time-consuming.

You have to wait to be approached by a brand, negotiate a price, exchange info and product, create content, review and revise, THEN finally post – all before getting paid a cent!

A one-stop shop for creators and brands alike, TRIBE streamlines the influencer process by directly connecting you with brands to create stunning, authentic content – fast. What used to take weeks or even months now takes only minutes, while giving you more creative freedom and control over your content than ever before.
But, a 'pitch post' is when a creator submits their content to a campaign with a pitch in place of a caption – like so: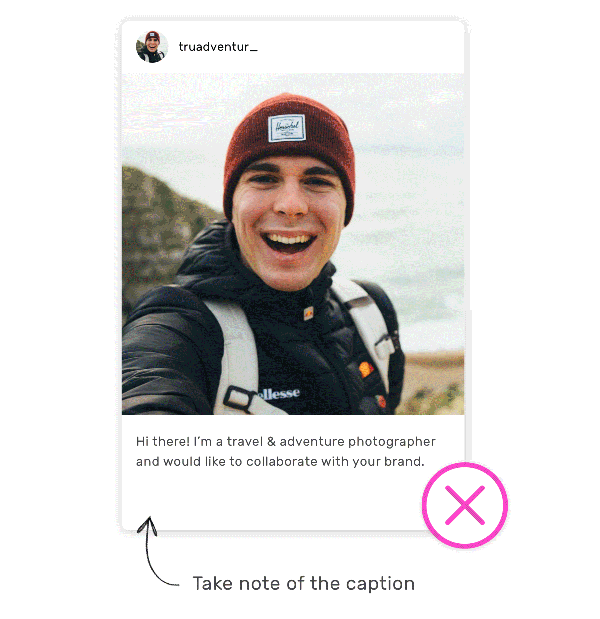 On TRIBE, there's no need to pitch yourself to brands. And here's why...
1. It's not as authentic
Brands come to TRIBE to find genuine, everyday people who already love their products. They want authentic recommendations from authentic creators, so don't feel the need to win them over with by pitching yourself.
Brands love a wide variety and volume of content, so don't worry about getting lost in a sea of creators. They're looking at your content and creativity - not your follower count.
2. Brands Ignore It
If a brand is paying for a post, they want to see the final product – high-quality, polished posts representing their product. There is no way of approving a pitch post's caption, which makes selecting them a risky and time-consuming process.
With so much high-quality content being submitted 'gram-ready, there's no reason for brands to purchase your pitch when other creators are simply letting their content do the talking.
3. it affects your influencer rating
We're constantly impressed with how well influencers conduct themselves on TRIBE—from responding quickly to brand feedback, to crafting great content that's on brief. To incentivize this, we created Influencer Ratings.
Influencer Ratings are designed to help you stand out, and are shown to brands alongside your submissions. They indicate your value to brands beyond your follower count or content price.
If the TRIBE Rating System flags any of your submissions as a pitch post, your influencer rating will suffer.
4. Let your content do the talking
TRIBE is a content-first platform.
This means that creators submit their content exactly as it will appear on their socials – caption, hashtags and all – and the brand will either approve or decline it.
The best way to get more wins on TRIBE is to keep it real, keep improving your content quality and just be yourself – simply submit beautiful, authentic content that is true to you.
5. the exception to the rule
At TRIBE, we do things a little differently. We believe in promoting brands that you already use and love – if you're not willing to buy the product, you shouldn't be recommending it to your followers.
An audience can tell when a testimonial isn't legit, and by promoting products you don't believe in, you risk losing trust, credibility or even your following.
But, the exception to the rule is if a product is hard to find, expensive or yet to launch. In this case, some campaigns will ask you to submit something similar to what you'd create and pitch yourself or an idea.
But, these unique examples are few and far between. So, unless specified the brand, make sure you're submitting posts that are pitch perfect and 'gram ready!