As a content-first platform, TRIBE has consistently assisted brands in sourcing an unprecedented volume of beautifully-crafted content at speed, scale and a fraction of the cost. The best part? You only pay for the posts you love, so it costs nothing but a few minutes to create a brief and watch the submissions roll in.
But, did you know we also offer a premium managed service for brands and agencies who need a more optimized solution? In this blog we'll break down how TRIBE's Managed Campaigns can save you time and deliver even better results – for no extra cost!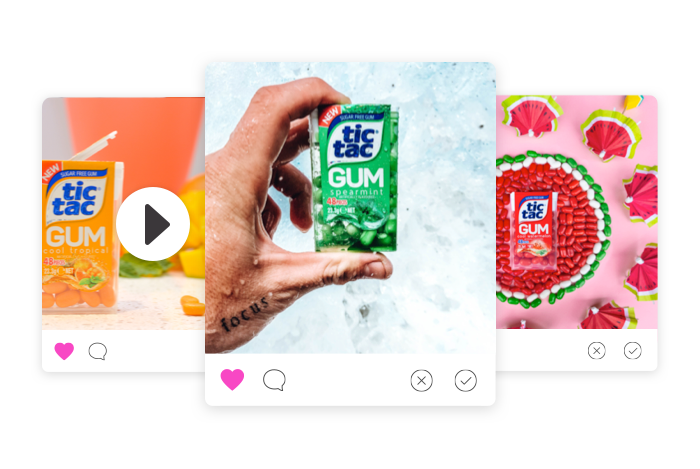 What is a managed campaign?
A Managed Campaign is TRIBE's premium, end-to-end service designed to streamline the campaign process and deliver more high-quality content and high-value returns than ever.
When you run a TRIBE managed campaign, you receive brief & inbox management before a curated shortlist of premium content is delivered for you to choose from. Once the campaign is completed, we will provide you with in-depth post-campaign reporting and sentiment analysis.

Why should i use it?
1. It saves you effort.
A Managed Campaign is ideal for brands or businesses that are super busy and time-poor, but still love the content-upfront benefits and guaranteed quality of TRIBE. By enlisting a TRIBE expert to manage your negotiations and shortlist your premium content, you get all the benefits of a high-performing influencer marketing campaign, with none of the hassle.
2. Increased value.
Due to our TRIBE experts' extensive insight and experience, Managed Campaigns aim to deliver a lower average post price and cost per engagement. We optimize your campaign to not only save you time and effort, but to make your budget work harder for you and deliver greater results. Our extensive post campaign analysis is also useful for assessing your best performing content and informing future campaigns.
3. It doesn't cost more.
The cost for both Self-Serve and Managed Campaigns is the same. We charge a 40% fee for Managed Campaigns, as opposed to 30% for Self-Serve. Importantly, because the brand or agency sets the budget and only pay for the content they like and approve to be published, the increase in margin does not cause a budget increase.
After running hundreds of campaigns, our team of TRIBE experts know exactly how to optimize your brief to get more bang for your buck.
For an extra 10%, we provide you with intensive campaign management, a comprehensive campaign wrap-up, post-campaign analytics and key learnings to take into your next campaign - at no extra cost to you.
For an extra 10%, we provide you with intensive campaign management, a comprehensive campaign wrap-up, post-campaign analytics and key learnings to take into your next campaign - at no extra cost to you.


What's the process?
1. We create your campaign.
Your assigned TRIBE Account Manager will create a brief for you after completing a customer needs analysis. This will detail your brand and campaign objectives (reach & engagement goals, the need for post marketplace content licensing as well as influencer specifics such as demographic breakdown etc.)
2. You approve your campaign.
You will then be required to approve the mood-board, content style and overall brief created by your TRIBE expert before the campaign is set live.
3. We fill your inbox.
Your TRIBE account manager will then perform the necessary outreach required to fill your inbox to the brim with the volume and quality of content desired.
4. We curate your shortlist.
Your Account Manager will manage all submissions, declines and influencer negotiations to get you the best cost per engagement. They will then shortlist up to 120% of your intended purchase amount with premium content and influencers that fit your campaign standards.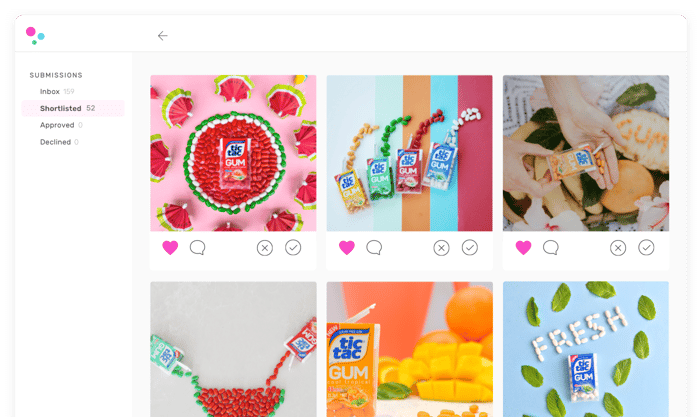 5. You approve your favourite content.
A shortlist will be delivered to you, upfront, giving you full control of approving the content and scheduling posts to go live. You simply look over the submissions, deselect the posts you don't want to purchase, and voila! We also take care of creator feedback on all unsuccessful submissions for you.
6. We provide you with a Campaign Wrap & Insights.
Your TRIBE expert will then provide you with an extensive post-campaign analysis, debriefing you on key learnings, best performing content, an ROI and sentiment deep dive, as well as future marketing recommendations. TRIBE can also help you choose which pieces of content to license for your online and offline advertising.