For many content creators, the possibility of making a career out of their craft seems like a distant dream. But TRIBE is all about giving everyday people a platform to express their creativity and do what they love – while getting paid for it!
Blogger and creator Zerin Hassan recently realised she could start making money from her content, and she was so excited that she wrote a blog about it!
Here's how Zerin made her first $1000 on the TRIBE app…
How i made $1000 from an app
I am just going to say it! I recently made $1000 from an app called TRIBE, which I am so proud of.
While $1000 might not be a lot of money to some, to me as a blogger, it was a huge achievement and an amazing confidence boost. I never got into this industry or started blogging thinking I would get paid, and that is the honest truth.
I never thought I would get paid for a blog post, or an image I uploaded on Instagram. To be able to get a second income from something I enjoy so much is just an amazing bonus.
I am obsessed with TRIBE. I love scrolling through the app and checking out all the recent campaigns. It makes me so excited! If you don't know what TRIBE is, then keep reading...
Firstly, the app is my favourite word: FREE. TRIBE works with global brands, who create campaigns on the app. Bloggers and influencers can then scroll through and create content for the ones they like. Each campaign has images and references to what the brand is and what they're looking for, along with detailed do/don't guidelines for each content submission.
There are loads of categories – beauty, fashion, kids and food & drink just to name a few. There is something for everyone really. Most of the time, I already have a lot of the products listed in the campaign, but if I don't I simply go out and purchase a few that are true to my liking. It's also a great way of trying new products.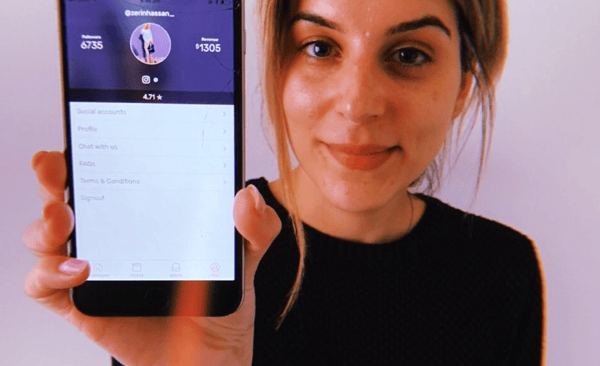 When I first signed up to TRIBE and started submitting my content to campaigns, I received a lot of emails saying "unfortunately your submission has been declined" – and of course, that sucked. But, eventually I got an email saying "submission APPROVED!" – best feeling ever! When my friends or following reach out and ask me about becoming a blogger, the first thing I say is, if you can't handle rejection you can't handle this industry. Not only did it make me work harder, it helped me grow a thick skin as a blogger.
Thanks to TRIBE, I have recently created content for Neostrata, Lady Speed Stick and Vegemite. Schwarzkopf even purchased the rights to my image.
I still get rejected for certain campaigns – it is just a part of the industry and that's okay. But don't give up! You will eventually get approved for a campaign.
I love TRIBE and am so thankful for all the opportunities it has given me. It's an incredible platform for both brands and influencers, and all you need is a social account with over 3000 followers. So, why not join the TRIBE?
Originally published by @zerinhassan_. Check out her blog here!